Sue Fisher, a volunteer at Fair Do's Fair Trade shop in Cardiff joined us on our Meet the People Tour to Ghana in October. She shares her highlights of meeting palm oil producers at Serendipalm, the people behind Divine's delicious Easter eggs and discovering Fairtrade bananas with VREL: 
The 2-week trip to Ghana was a very varied and exciting itinerary with visits to Producer groups and many of their projects and places of work. These included several school visits, a clinic, wells, community centres, IT facilities and many instances of women's groups. We also visited several craft enterprises where we took part in 'workshops', local markets, and historical visits to learn about Ghana's liberation from its colonial past, the traditions of the Ashanti Kingdom and the horrors of the slave trade.
Of particular interest to Fair Do's were the two visits to producers whose products we stock in the shop. The first of these was Serendipalm, the sustainable palm oil project which provides the oil for Traidcraft's Clean and Fair range of soap products we sell. We turned off the pot-holed main road, up an even bumpier track, to pick up Sanaa, a young woman eco-horticulturalist who is employed by Serendipalm to advise on sustainable growth of the oil palms and other crops. Sanaa took us to a community hall where we met a farmers' committee. They were keen to tell us about the benefits of a regular income they knew was part of the Fairtrade deal. In the hall were about eighteen computer terminals and while we were there a class from the local high school came in for a lesson. This IT resource is funded by the Fairtrade premium and the IT teacher, Samuel, told us what a difference it made to have this accessibility to modern technology. (Elsewhere we were to see a class crowded around one laptop).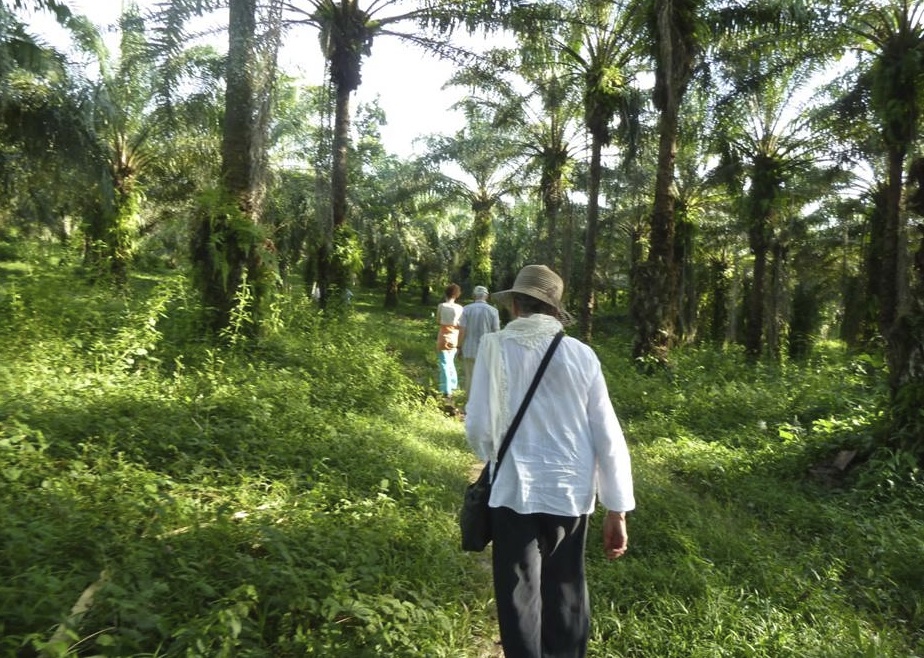 Sanaa then took us to a palm oil forest. It did not look like the regular plantations I had seen in photographs from Indonesia. There were several other species of tree, much bird song, and the trees were taller than I expected. We met a farmer there called Joseph, who demonstrated how he cuts down the bunches of fruit with a sharp knife at the end of a very long pole. The bunches of fruit were left in heaps at the side of the road to be collected for processing.
Sanaa also took us to a part of the forest where she was planting various other trees, notably cassava and cocoa, as shade for the development of the oil palms at different stages over a twenty-five year growing period. She told us how she was encouraging local farmers to adopt these sustainable methods. The other plants also gave their own useful crops, with cassava taking only six months to mature, and being replanted just from a single twig.
We were next taken to the headquarters of Serendipalm where several women were seated in groups in a large open shed, with substantial tin bowls full of the bunches of fruit, carried there on the head. The women were busy separating the individual fruits from the bunches, while others took away the remaining fibres for making into fertiliser. The women are paid on piece-rate and their individual sacks were labelled with their names. We had lunch with them in their canteen, which was a good chance to have a bit of a conversation.
We saw the first stages of the pressing process to produce the palm oil. It was still very cloudy as it emerged from the machine. It is red in colour and a feature of Ghanaian cuisine, notably in the rice dish 'Red Red'.
Later we were taken to two local projects financed by Serendipalm from the Fairtrade premium. The first was a maternity clinic where local women can receive check-ups and have the services of a midwife when giving birth. The second project was a bore well in a local village which had been built at the request of local people, with particular attention paid to an older woman's report of a former well she remembered in a particular spot from her childhood. This was investigated and found to be a good source of fresh clean water and we were delighted to see that this woman had been placed in charge of the well, controlling flow and distribution of extra water.
I felt that the visit to Serendipalm had taken me back to the roots of the Fair Trade movement, first experienced back in 1981 when I saw women in Bangladeshi villages weaving the jute sikas that were one of Traidcraft's most popular early products. Now here I was in 2018, seeing the same security of a regular income prized by workers, seeing pride in the community projects made possible by Fair Trade conditions, and feeling a real sense of women's work being valued and their voices heard.
Our next visit, while staying in Kumasi, was to the famous Kuapa Kokoo Farmers' Union co-operative which supplies Divine chocolate. We started at the Co-operative House, a community centre in the village of New Koforidua, one of 200 communities supported by Kuapa Kokoo, where we met representatives of the local farmers' co-operative. The Vice-chair and Treasurer were among several women farmers who had been delegated to meet us alongside their male colleagues. We asked each other questions and presented donations, predetermined by the tours in the cost of the trip, in thanks for their time. The village regards itself as Africa's first Fairtrade Town after adapting the Fairtrade Foundation's five critieria of FT Town status, influenced by links with Garstang, the UK's first FT Town. We were able to chat to children in the community's school as we left.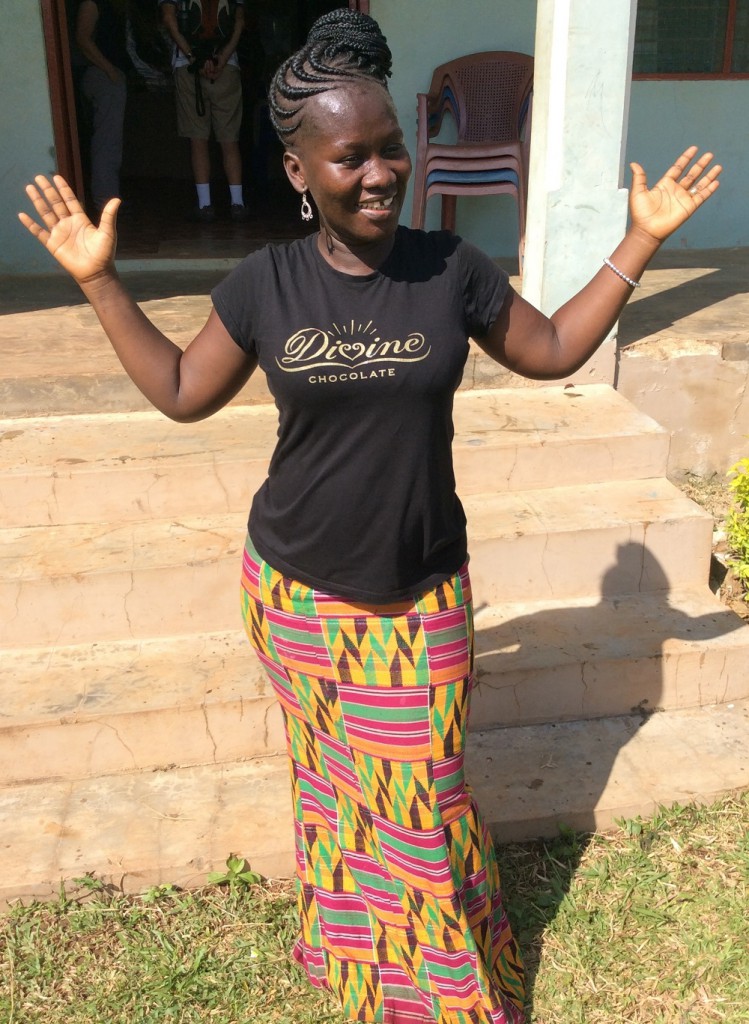 We started the next day at the headquarters of Kuapa Kokoo (KK) with a Powerpoint presentation by Esther, KK's Communications Officer. KK represents about 100,000 farmers in 57 Co-operative groups. Esther showed the detailed structure of KK and the many levels of representation for which elections are held. Of the Board of Directors, four of the seven are women. We also met Luke, the CEO of the organisation, who was very welcoming.
The structure of the co-operative allows for almost 500 long-term projects, including several wells, corn mills and schools. There is a range of committees, including welfare and gender. There is a Healthcare Programme with its own mobile clinic and medical staff. Importance is attached to a Child Labour Programme and a Labour Rights Project. A Productivity Enhancement Programme had involved the planting of 500,000 seedlings. All of these are financed by the Fairtrade Premium. The organisation also takes pride in its sustainable environmental interventions, including dynamic agro-forestry and diversification of crops. With heredity issues over passing on land, young women were being trained to take over from ageing farmers, a sign of the determination to empower women.
Esther took us to a beautiful forest of cocoa trees where we followed a farmer on an indistinct path through the dappled light, with the glowing yellow of the cocoa pods all around. On the floor of the forest were frequent patches of red petals from the 'Christmas trees', tall and protective of the much lower cocoa trees. We saw a patch of light in the distance and gradually arrived at a group of workers in a clearing busily opening up cocoa pods with machetes to extract the beans, which were covered in a white sticky sap.
There was much laughter and the rejected pods were flung into a heap with the discarded empty ones to be turned into compost. Some of the men demonstrated how they cut the cocoa pods from the trees with long-handled machetes. We were next shown how the beans are fermented for about a week in heaps in the forest covered by black plastic and branches. You can smell their location! They are turned two or three times in the week and at the end of that time the white covering has disappeared.
Kuapa Kokoo prides itself on the empowerment of women and its community projects. It is a highly-organised and structured company. Like many Fairtrade certified organisations, both Serendipalm and Kuapa Kokoo sell as much as they can to Fairtrade companies, both in the UK and in Europe, but there is never enough demand, so they also supply Rainforest Alliance and commercial outlets.
Our third Fair Trade visit on the holiday was to the Volta River Estates Ltd Banana Company, which supplies FT bananas mainly to UK supermarkets, including Sainsbury's, Waitrose, M&S, and the Co-op. Again, they sell their surplus as non-FT, sometimes to Fyffes. Their pride in their community projects, particularly supplying IT equipment and new buildings to schools, was very evident, as was their encouragement of women. We were particularly pleased to meet one woman tractor driver who had been recruited from the banana-washing section in the processing plant and given training to become manager of the compost plant producing fertiliser from left-over banana tree stalks, wheat stalks, and chicken manure. She was turning the drying heaps of these and mixing them as she drove along.
This trip was a re-affirming experience for me, showing strongly the roots of the Fair Trade movement still in action in people's lives, particularly in the empowerment of women and projects to benefit whole communities.
For more information on our Ghana tour and to find out how to visit click here to browse our website and download a detailed tour dossier. Alternatively contact Hannah by calling 0191 2651110 or email info@skedaddle.com