Efrain Valles heads up a team of fantastic guides who lead our Meet the People Tours to Peru and we were delighted to hear Bill Bryson announce him as the overall winner of Wanderlust's 2014 Tour Guide of the Year Awards.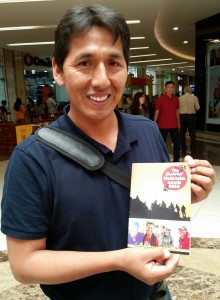 Whether it's the producers you visit or the guides themselves, we know that it's the people that you meet on our tours that make our trips such a special experience and we're always delighted for any excuse to celebrate just how fantastic they all are. Wanderlust are the only travel awards to focus specifically on recognising the contribution of tour guides and with the judging being made on the testimonials from previous travellers, this award means so very much to Efrain.

Efrain guided our very first Traidcraft Meet the People Tour to Peru in August 2008 and has just completed his 12th tour with us this year. In 2012 Efrain came to the UK to run the London Marathon, a lifelong dream and a fantastic opportunity to raise over £5,000 for Traidcraft Exchange and a further £6,500 for Chicuchas Wasi in Peru.
Huge thanks must go to everyone who sent in testimonials about their tours to Peru with us and for those who were able to join us in celebrating with Efrain at the Awards ceremony at the Royal Geographical Society last month. He's been overwhelmed by the level of support from Traidcraft supporters and we'll all remember the massive cheer when his name was first announced at the ceremony!
Efrain wins a bursary of £5,000 which will be going to Chicuchas Wasi, a school providing an education for young girls in the Cusco region. It's a charity really close to Efrain's heart and we always make a visit to Ruth and the girls at Chicuchas Wasi during our tours and we are looking forward to hearing how they plan to spend the bursary money next year. You can find out more about Chicuchas Wasi on their website by clicking here and for further information about how to stay in touch with the charity and donate through the UK based Friends of Chicuchas Wasi then do get in touch with Lizzie at Skedaddle.
Although Efrain's trip to the UK was short, he had a great time celebrating with many old friends and even had a little time to enjoy some of the sights of London: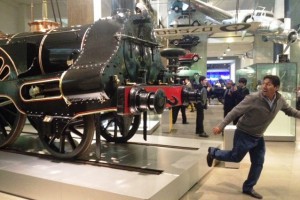 For more photos from Efrain's Adventures in London you can visit our Facebook album here.
We've been delighted to see lots of coverage of Efrain and his award all over the British and Peruvian press. For those interested in seeing some of the articles, you can find more on our Facebook page or click the following links:
Wanderlust
The Guardian
The Telegraph
And for those looking to improve their spanish…
La Republica
Canal N
Frecuencia Latina

You can find out more about our tours to Peru by clicking here and to join our tours to Peru with Efrain and the team, chat to Hannah on 0191 2651110 or email us at info@skedaddle.com.