Following the fascinating journey along Kathmandu's crowded roads, and past temples and busy shops, we arrive to the warmest of welcomes from the team at GPI (Get Paper Industries). Coming from the bustle of Kathmandu, there's a sense of calm at GPI, but what also comes across quickly is the strong work ethic, and a palpable sense of pride in producing only the best quality paper products.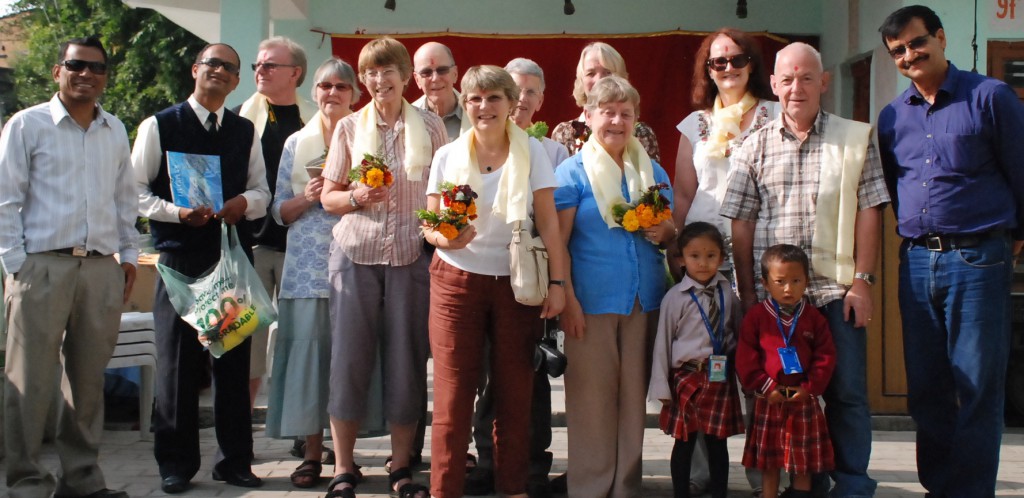 Established in 1985 as a family papermaking business, GPI's aim is to provide decent, sustainable employment for people in the local area. We listen intently as Milan Bhattarai speaks plainly of the challenges they see around them in Nepal, and be it business, inequality or environmental, there are many. But Milan's focus is not on the challenges, it's on the solutions and it's inspiring to hear the sense of fun and daring in some of the imaginative solutions they have pioneered.
GPI has been recognised with several environmental performance, social achievement and business excellence awards. They provide a very friendly and comfortable working environment, with a meal provided at lunchtime, and with tea and tiffin facilities for breaks. Approximately 50% of the employees are women, wages are above the national average and around double the government's legal minimum wage. There is also a profit sharing scheme, production bonuses, and workers have access to advances and interest free loans from GPI. As we walk through the production rooms we see the skill and speed at which the beautiful coloured paper is made and finished, and meet the amazing people behind it all.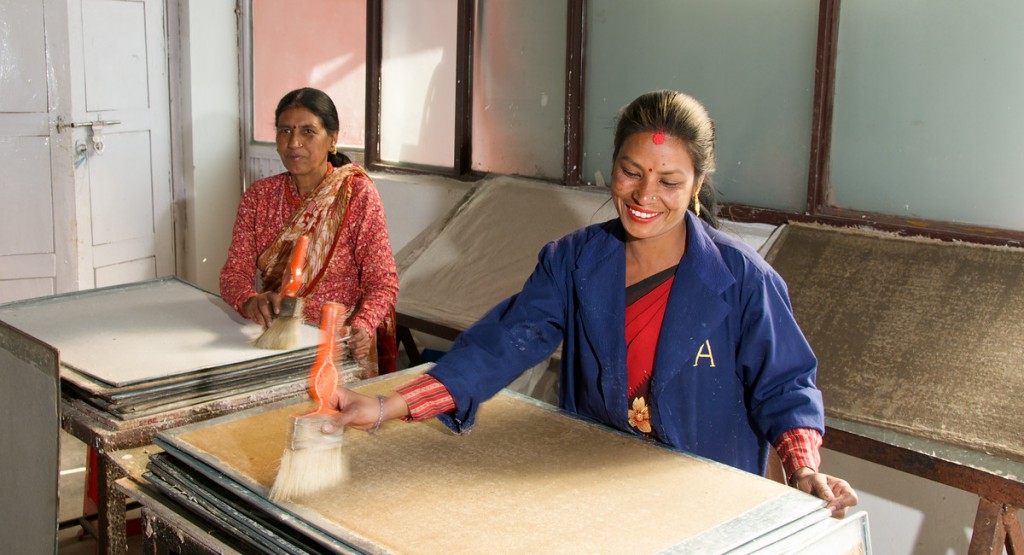 And it's not just about the people, GPI embraces an environmentally friendly approach to producing handmade paper and paper products using waste materials like cotton rags, paper, banana fibre, straw and water hyacinth. The paper is dried in the sun and there is a waste water treatment plant in place.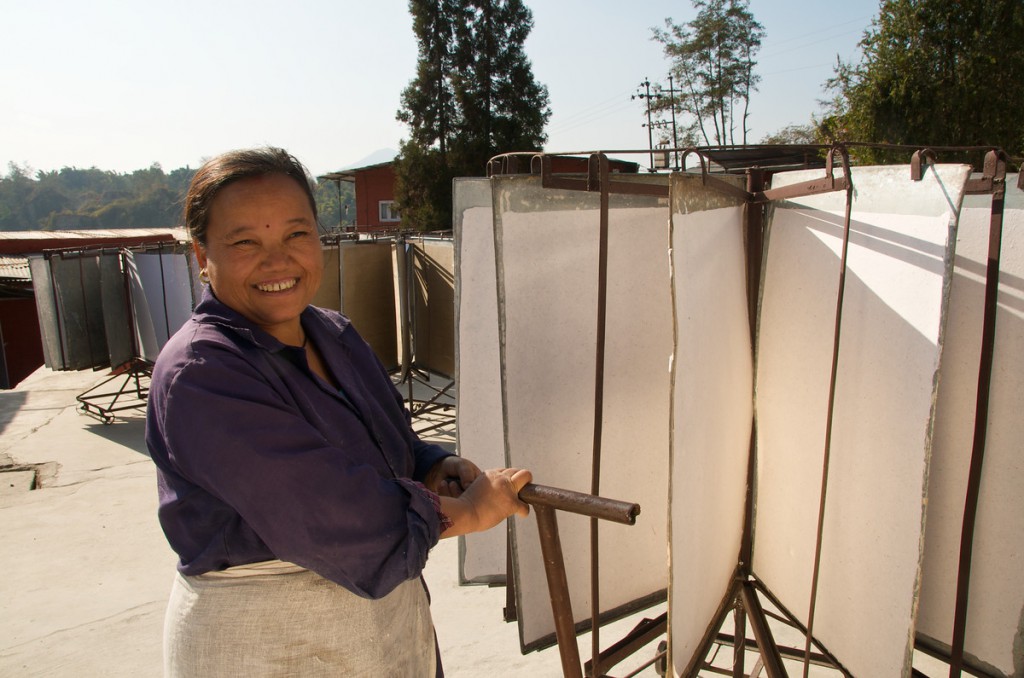 As well as the Body Shop being a supportive buyer of paper for many years, Anita Roddick herself had an enormous influence on GPI and her presence is still felt throughout the organisation. The school closest to GPI is named the 'Anita Milan school' after her and the founder of GPI. One of the highlights of our visit is meeting the teachers and children, learning about the scholarships provided for local families and celebrating the successes GPI has achieved in supporting access for girls in the community to a good education.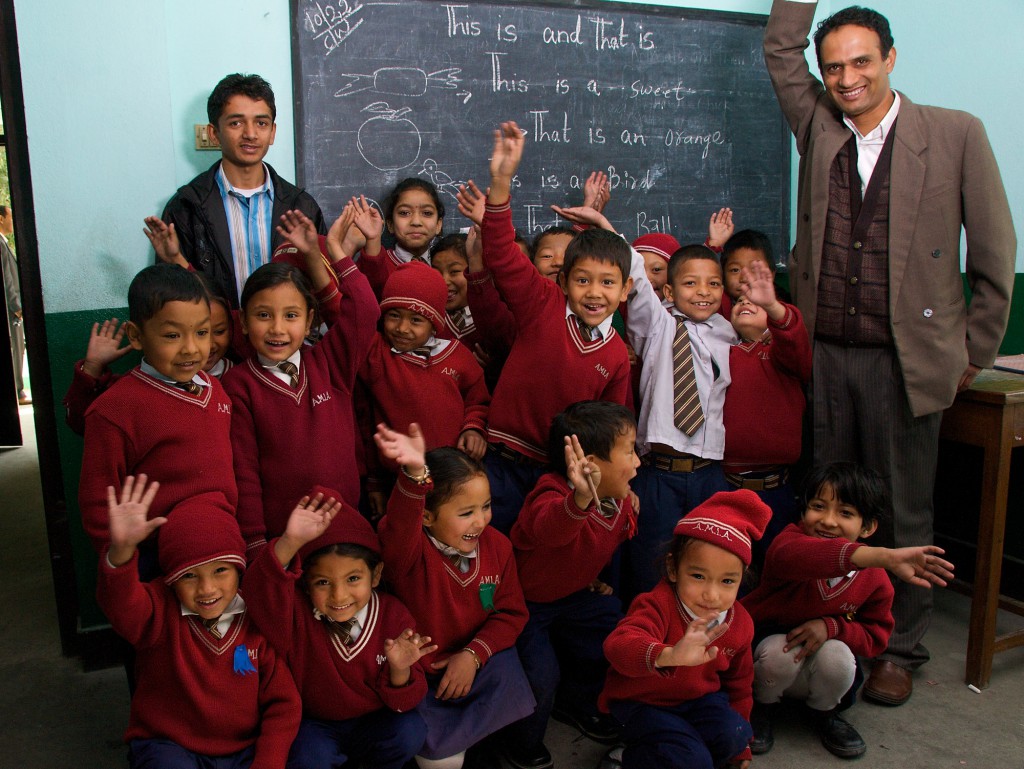 In 1993 GPI formed General Welfare Pratisthan (GWP) to deliver development activities such as girls' education, HIV / AIDS awareness, and environmental projects. Human trafficking, particularly of young women, is a major problem in Nepal where up to 15,000 people are trafficked each year. GWP has a number of successful projects giving women and their families alternative income generation schemes in the most affected areas and continues to raise awareness of the issues.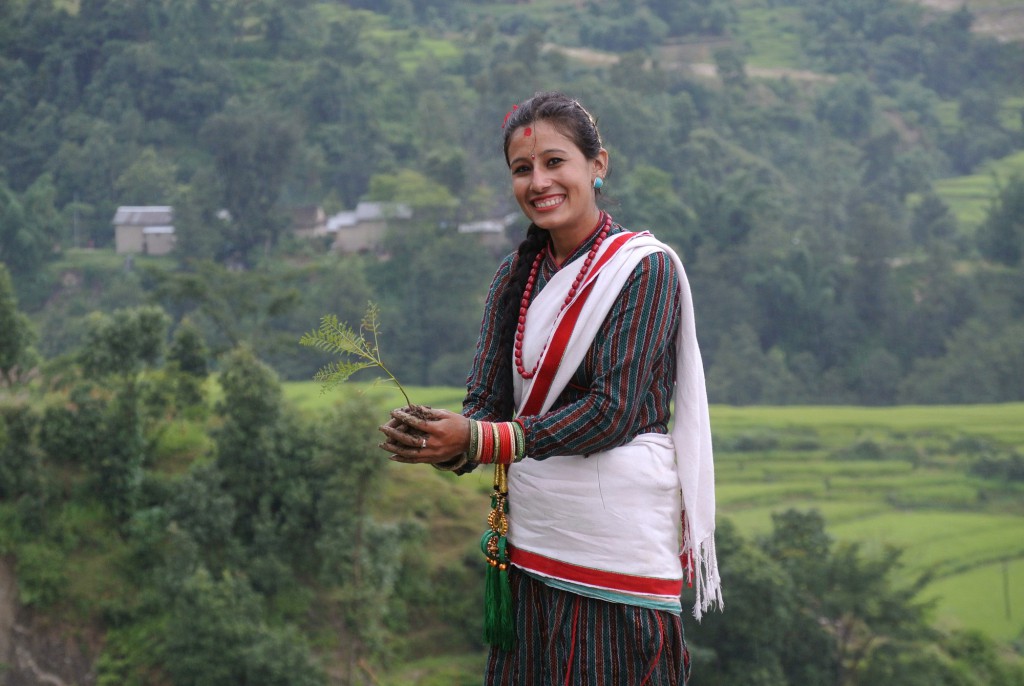 Rather than allocating a percentage of profits, GPI dedicate 4% of the total of all their invoices to GWP to ensure a higher level of financial support even in years where profit is low.
On Traidcraft's website you can find giftwrap, cards, gift bags and writing sets from GPI and learn more about their product development support which has enabled them to work with other buyers and diversify into new areas like felt-making.
GPI are one of the amazing producer groups we meet as we discover Nepal. For more details of our visits the you can find lots more on our Nepal Holiday Page or by contacting us in the office on 0191 2651110 or info@skedaddle.co.uk