Meet the People traveller Judy Dixey headed to Nepal to discover the rich treasures and fascinating local culture that await those who venture here…
Many people dream of going to Nepal – some were dreaming when they were actually there, on the hippie trail in the '60s; some dream about trekking in the magnificent Himalayas or even taking a flight over Everest; some dream of finding themselves, or their god – Buddha was born in this kingdom at the top of world.
I was privileged to try out a very different kind of Nepal on a trip organised by Saddle Skedaddle on behalf of Traidcraft. Traidcraft is an essentially Christian organisation whose mission is to reduce poverty through trade. It is active in various developing countries throughout the world, empowering people to take control of their lives through working to produce goods which can be traded in the West – whether it's food, crafts, clothes or homeware. All are produced under at least as good conditions as those demanded under Fair Trade regulations.
Our visit was entitled 'Meet the People' who are involved with Fair Trade and Traidcraft; and so we did. We met an inspirational man who's at the forefront of an organisation – Get Paper Industries – which has drawn disadvantaged women into employment, making hand-made paper, or felt objects. We visited as they were working on a line of paper containers for The Body Shop; so when you next buy items from there, do take note of the little boxes they are packed in – they will probably come from Nepal. He also had the heart and wisdom to see that girls' education is essential (currently 34% of girls in Nepal do NOT go to school) and to devise schemes to 'trick' that caste-based society to 'Send your daughter to school'. The scheme is to pay 100 rupees (approx 75p) a week to the lower-caste families when their daughter goes to school; this encourages other higher caste families to feel they might be missing out. The notion of 'keeping up with the Jones's' works in Nepal too, so they send their daughters as well.
The company is also active in AIDS awareness, and it is also environmentally aware, so any machinery used is powered by solar energy.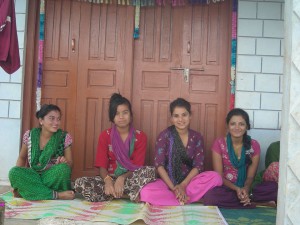 There is a major issue of young women being trafficked to India for the sex trade; GPI has initiated self-governing networks of girls to confront this issue – over 100 groups now exist of 15 girls, who can guard against the traffickers' empty temptations of a better life elsewhere, through mutual support and information. They are also provided with the means of earning income and preventing their fathers or brothers from selling them to traffickers – they might be given a goat, which will have kids, and more kids; the goat is a speciality meat at festivals, so is highly valued. We met one such group in the back of beyond, up the most appalling track, which was only passable by jeep or on foot. The girls were meeting together, minuting their discussions and decisions and earning respect from the villagers round about.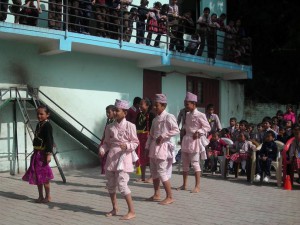 Our next visit in Pokhara was to the Women's Skills Development Project, founded by Ram Kali Khadka in 1975. Over 11,000 women have benefitted from her energy and actions and the two shops on the Lake Side Road are packed with imaginative craft work from the 435 current members. They are learning skills such as dyeing, weaving and sewing; some of these are skills we lost 100, 150 or even 200 years ago; but they are useful skills in the context of the country as it is. How could you expect them to be learning IT skills, when there are constant power cuts, and the lighting is barely good enough to read by at night? Of the 435 women working for the Project, some are home workers; 35 are disabled, of whom 11 are blind.
We certainly filled our suitcases with masses of beautifully-made imaginative presents for home and families, very useful as we come up to Christmas.
But the trip wasn't all serious visits to these projects. There was plenty of time to visit and admire a fraction of the temples and shrines for which Kathmandu has obtained the deserved soubriquet of City of Temples. We also described it as City of Chaos as the traffic is terrifying, there are no traffic lights and policemen in the middle of the road wave and blow whistles to gain some sort of order. Amazingly, we saw no accidents, and drivers squeeze their battered vehicles through tiny spaces, demonstrating significant skill and nerve. Everyone who is not in a battered vehicle is on a motorbike; usually the driver wears the helmet, while the pillion rider takes her life in her hands and doesn't. Cows, dogs and chickens wander across the road with impunity and somehow survive. The potholes are such that I'll never complain about those in Britain again!
We also travelled to the Chitwan National Park, where we saw rhino, elephants and deer; at one point a family of wild boar had an argument and charged across our path. We had a highly knowledgeable guide, Kumar, whose wild-life life had begun with 9 years in tiger conservation, and despite no formal education, had accumulated a wealth of knowledge to share.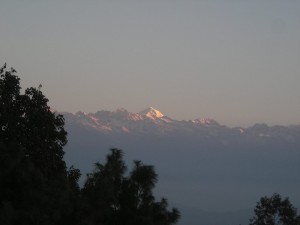 And of course, we did get up to see the sunrise. Rosy-fingered dawn did tip the peaks of the Himalayas in front of us, a few minutes before the sun itself actually appeared above the horizon. What an astounding experience.
Our guide, Prajol, had worked with Traidcraft and Skedaddle to ensure we had as rounded a view of Nepal as could be gained in the space of just under two weeks – and many of us have come back with a feeling of sensation- and emotion- overload which will take some time to unpack and process. There is no doubt that there is masses to do there, the infrastructure militates against swift improvement in living conditions, as does the Hindu acceptance of life as it is. But it is better to light a candle than rail against the darkness and that is what I did, in the Mahabuddha, the abode of a thousand Buddhas, in thanks for our visit and as a prayer for peace and enlightenment.
To see more photos visit ICN's Facebook Page
Many thanks to Judy Dixey for this article and to the Independent Catholic News for allowing us to reproduce it here. To see the original article please click here
If you would like any further information about our tours to Nepal with Traidcraft then please click here. Alternatively, please call Hannah at Skedaddle on 0191 2651110 or email us at info@skedaddle.com.