Our tour in Vietnam is packed full of character and charm, so it's great to see this tour featured  in a double page spread in The Guardian, thanks to journalist Liz Boulter. Didn't manage to grab yourself a copy? Here's a preview below…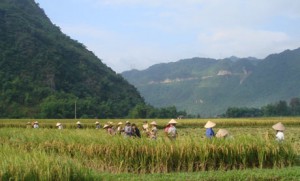 It started with a tiny ceramic teapot and that led to a lacquered bamboo dish in a bright abstract pattern, then a hand-woven scarf. It was just the start of my tour of Vietnam, and I was already hooked.
I am not usually a shopaholic, but here not only did the prices appeal to my Yorkshire sensibilities – none of the above items cost more than £2 – but I could convince myself that this retail therapy was doing some good. There's all sorts of tat on sale to tourists in Vietnam, much of it made in China. But I knew my spending would make a difference to local lives because I was on holiday with an organisation which makes that its mission.
Traidcraft, the people behind the British catalogues and gift shops, has teamed up with cycling-holiday operator Saddle Skedaddle (one of its founders used to work for Traidcraft) to offer trips to the developing countries the charity sources its wares from. The idea of Traidcraft's "Meet the People" holidays (there's no cycling on this particular trip) was to give people who were already part of the fair-trade movement – volunteering in shops, running stalls – the chance to see where products originated.
Even for those who've never been near a fairly traded fruit bowl, the tours offer a unique perspective, on people and cultures as well as sightseeing. (They also run trips in other Asian countries, and in Africa and Latin America.) Plus you get to shop till you drop, and feel good about it.
My teapot and dish came from a showroom in Hanoi run by Craft Link, a non-profit organisation that works with 60 artisan groups in northern Vietnam. Over tea and little cakes upstairs, we heard from manager Ms Tran and younger Ms Thuy all about its work finding markets for handicrafts as a way of keeping traditions alive and alleviating poverty. It's not charity: they help groups for a couple of years, with training and financial support. And they always work with women.
Then we were let loose in the shop: our group of 15 Brits snapped up silk purses and scarves, bags, ceramics and jewellery. There was still more than two weeks of the tour left, but hey, a gorgeous little brooch won't take up much room…
Want to find out more? Click here to read Liz's article in full.