We're pretty proud of our Meet the People guiding team, who do an amazing job looking after all of our customers across the world. With such a variety of guiding characters in our range, we're never short of fascinating tales about their adventurous lives! Product Manager Lizzie caught up with our Peruvian guide Efrain, who recently decided to swap the high altitude peaks of Peru for the chance to compete in the London Marathon…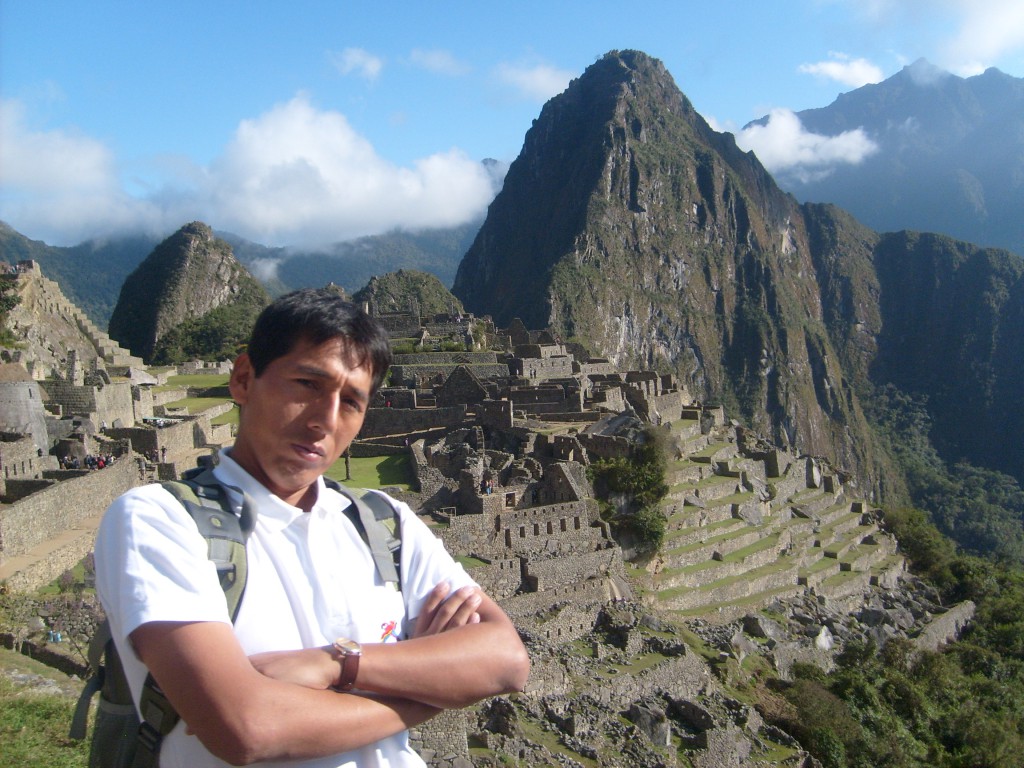 I first heard about Efrain back in 2007 when we were setting up our tours to Peru. I had asked our partners in Peru to send us some information about our new guide and this was their reply…
 "His knowledge and love of all things Peruvian,  his great sense of humour, his unflappable nature and his ability to deal with the vagaries of travel in the Andes makes him a popular leader highly in demand and his leadership experience will make this trip an truly unforgettable Peruvian adventure. His ambition one day is to compete in the London Marathon."
It's now 5 years later but we are finally there and Efrain has made it to the UK (his first trip out of South America) to run in the 2012 Virgin London Marathon, which took place on Sunday 22nd April, 2012.
It is not easy securing a place in the London Marathon as there are many more people who want to do it than there are places available. But we had been able to get one for Efrain through Traidcraft's charity, Traidcraft Exchange. They had very kindly given Efrain one of their much sought after places on the marathon and in return we agreed to raise £3,000 to support their overseas development work. This raises much-needed funds for Traidcraft Exchange, a wonderful charity where we all know that the money will be used to help people in the developing world to improve their lives through trade.
For those of you who have travelled on some of our tours to India, Bangladesh and Kenya you will already have first-hand experience of some of the projects that Traidcraft Exchange are involved in, but you can also find more about the incredible work they do by clicking here to see Traidcraft Exchange's website.
Having raised the necessary funds needed  – we want to thank everyone for all of their time, support and generous donations – Efrain managed to make his trip to the UK and complete his dream of running in the London Marathon a reality! Completing the run in an impressive 5 hours, 3 minutes and 32 seconds, it's safe to say we're incredibly proud here at MTP HQ. Here are a few photos from his journey to the big smoke…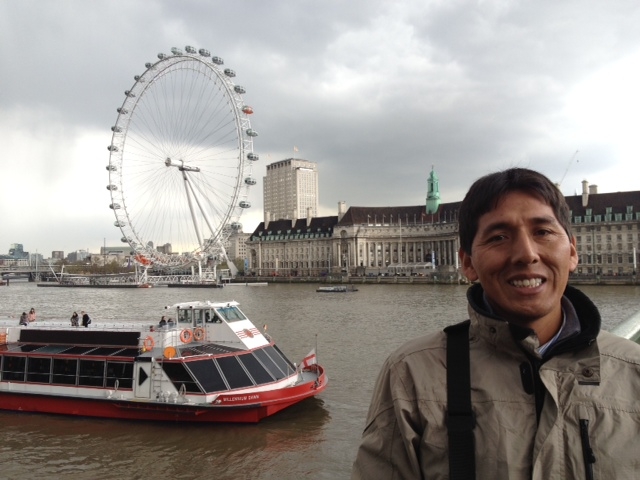 Sightseeing in London!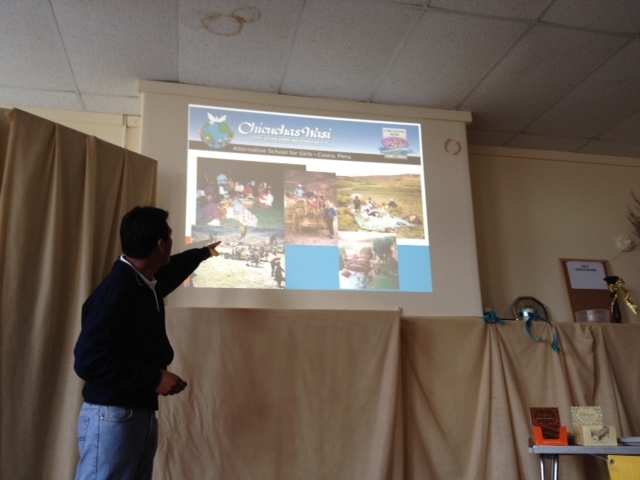 Efrain giving a presentation about his childhood and recent developments at Chicuchas Wasi (www.chicuchaswasi.org)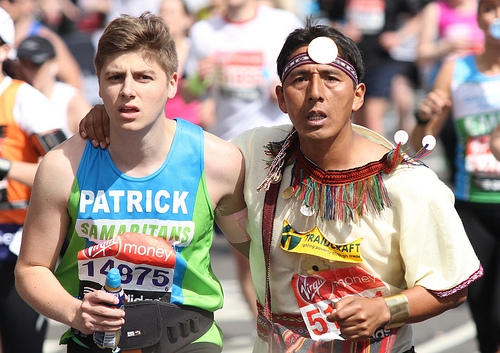 Efrain and a Samaritans runner at 25 miles – just 1 mile to go! (Thanks to Joe Freeman for the brilliant photo http://www.flickr.com/photos/joefreeman/6956878164/ )
Efrain ran the London Marathon for Traidcraft Exchange and you can read more about his story on his Just Giving site: www.justgiving.com/Efrain
During his trip to the UK Efrain is also raising money and promoting a local charity in Cusco which is very dear to his heart – Chicuchas Wasi. Donations to Chicuchas Wasi can now be made through UK charity Friends of Chicuchas Wasi using the details as follows:
Cheques can be made to "Friends of Chicuchas Wasi" and sent to:
Michael Tunnicliffe
5 St George's Way
Kingsmead
Northwich
CW9 8XG
Or by BACs payment sent to
The Co-operative Bank
Sort Code 08-92-99
Account number: 65469806
Please send an email to Michael at mtunni@sky.com to let him know a payment has been made.
The charity is registered for Gift Aid so please indicate if your donation is eligible for this to Michael, either in your email or in a note along with a cheque.

Interested in fundraising for Traidcraft?
If you have been inspired by Efrain's marathon run for Traidcraft Exchange then join the Traidcraft Team in one of their challenge events.

Visit www.traidcraft.co.uk/challenge-events for more info or call 0191 4976445